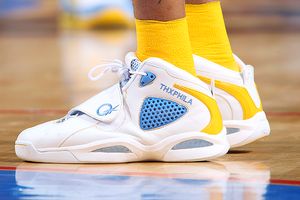 From ESPN.
PHILADEPHIA -- Allen Iverson did not cry as the crowd inside his old stomping grounds showered him with 35 seconds of unadulterated love during pregame introductions. He blew kisses to the crowd, he pounded his chest, and when the applause and the screaming would not cease, he cupped his hand behind his ear and made the noise level rise by another dozen decibels.

"I didn't actually have tears in my eyes, but they were burning," Iverson said. "At one point I had to hold my head up so they wouldn't fall.

"But when I'm back at my hotel all by myself later tonight, they'll come out."

In an incredibly emotional comeback to the city where he spent one of the most eventful decades any NBA player has ever experienced, Iverson was given the warmest of receptions by the same fans he tantalized and frustrated for so many years.

He had a chance to be the hero of the game, too, but his jumper from the corner with 4 seconds left was off-target, and Iverson's old team, the Philadelphia 76ers, celebrated as though they had won a championship as the final buzzer sounded on a 115-113 victory Wednesday night over the Denver Nuggets.

"I'm not saying I'm cool with losing, cuz I'm not," Iverson said, "but I can't take away from what these people gave me tonight."
...
it was a class act all around -- from Iverson himself, and from the Philly fans.

"It was emotional, and it made me feel like the time I spent here was worth it," Iverson said.